Google has announced that it may identify slow-loading websites in Chrome, which shames its developers and forces them to update their games. Also, the company says it may later identify sites that are likely to be slow due to the user's device and current network conditions.

Faster and Faster Web Surfing Experience

Google Chrome is a cross-platform web browser developed by Google. It was first released in 2008 for Microsoft Windows and was later ported to Linux, macOS, iOS, and Android. Now, Google Chrome is a popular web browser and has millions of users. Since 2002, Google has been providing us with the best services such as easy to use interface, assessment to various websites and a lot more.

Among these services, speed has always been strength and the biggest concern of Google Chrome. A fast web search experience allows you to find the exact information that you're looking for, with no extra effort needed. Google Chrome is constantly working to give users an instant experience as they browse the web.

Google Chrome Will Label The Slow Websites

In a post to the Chromium blog, a trio of Chrome developers – Addy Osmani, Ben Greenstein, and Bryan McQuade wrote: "In the future, Chrome may identify sites that typically load fast or slow for users with clear badging." They used the term "badging" to describe on-screen cues and clues.

Also in the blog, Osmani, Greenstein, and McQuade said Chrome will spotlight sites that "are authored in a way that makes them slow generally, looking at historical load latencies."

The company has not determined what is exactly the badging look like. However, badging may take a number of forms and Google plans to experiment with different options, to determine which provides the most value to our users.

You might also like All You Need to Know about Libra, Facebook's New Cryptocurrency
Google Chrome's early explorations will look at a number of Chrome surfaces. For example, molasses-slow sites may show a "Loading…" page that includes a warning, like a caution icon and text that reads "usually loads slow." While a fast website may display a green progress indicator bar at the top of the page instead of a blue one.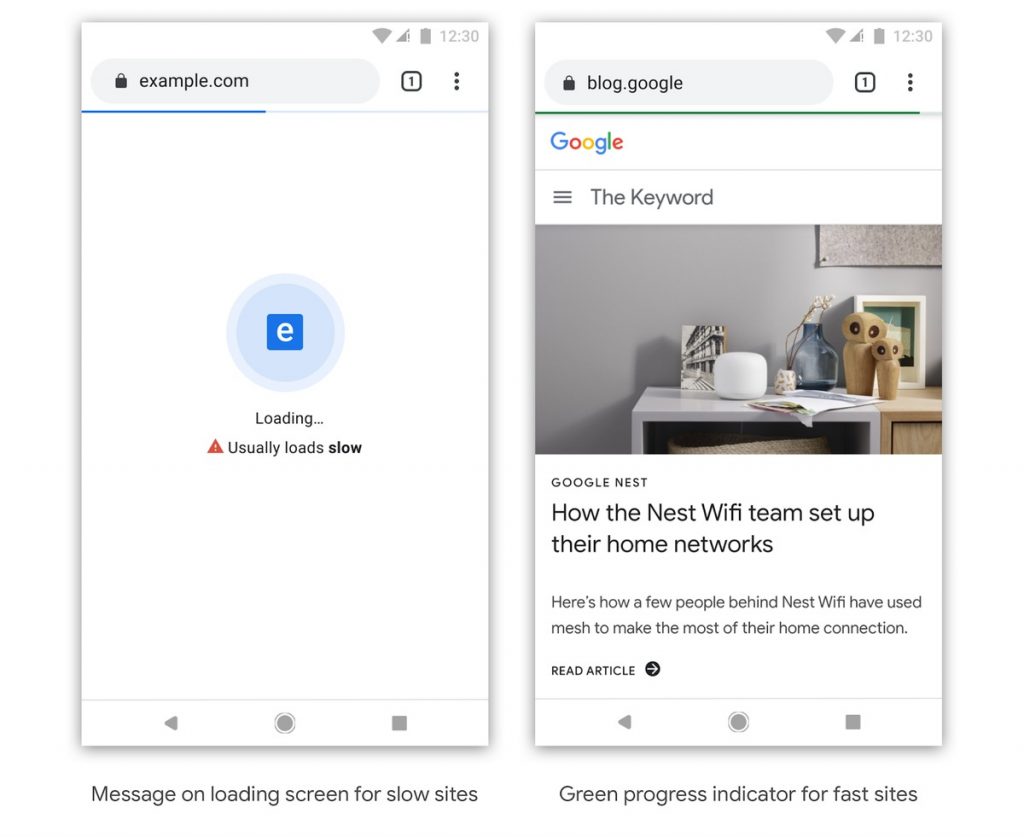 In addition, Chrome may use the context menu for the links, which could enable insight into typical site speeds so you're aware before you navigate.

The three engineers also said that the highlight slow and fast sites would take place in gradual steps. And the definitions of each would be "bases on increasingly stringent criteria".

Google's Long-term Goal is to Bring High-quality Experiences

In the long-term, Google Chrome wants to identify and badge websites for high-quality experiences, which may include other factors beyond just speed.

However, in essence, if Google can develop this feature, Chrome won't become faster or slower. Instead, it's a kind of criticism deflection. When you encounter a slow site, your first condemned the browser. Some others may wonder if their network speed suddenly sank, perhaps because of a flaky ISP or even competition for consumption. And by pointing out specifically that site X usually loads slow, Google prevents ant carping about Chrome.

With its dominance, 67.4% of global browser activity by the tally of analytics vendor Net Applications, Chrome puts pressures on sites to become objectively faster. Along those lines, Google suggests web developers visit its resources focused on site performance, which are:
PageSpeed Insights, an online tool that shows speed field data for your site, alongside suggestions for common optimizations to improve it.
Lighthouse, a lab tool providing personalized advice on how to improve your website across performance and other best practices.
web.dev/fast – its learning platform with guides and codelabs on how to get your pages loading instantly.
A faster, more usable web benefits Google because it helps the company better cater to its primarily mobile users. Since 2015, the majority of Google users search their needed information from mobile devices. However, that shift has required new ways of indexing and ranking pages as well as serving users whose connection speeds vary and who may not have powerful devices.

This feature would particularly help Google users in emerging markets, such as India, where decent bandwidth is often lacking and low-end smartphones are common.