As social media has a strong growth in today's world, people are paying too much attention to fake internet points. So what will happen if these unreal numbers disappear? The new update from Instagram will help us to answer this question.

Instagram is rolling out hidden likes six months after they first announced the "test" that would hide public like counts on all Instagram posts. Initially, Instagram's likes disappeared in Canada last May and then expanded to other countries, including Australia, Brazil, Ireland, Italy, Japan, and New Zealand. And recently, the platform also hides likes in the US.

Why Instagram is Hiding Likes?

Instagram creates hidden likes feature with the purpose to create a safe and healthy place to spend time online. When likes are public, social media users care too much about them. Then, they view it as a metric of success, specifically teasing those who get too few, or buying likes to try to gain admiration. Therefore, Instagram wants "its followers to focus on the photos and videos you share, not how many likes they get."

When the news broke. some celebrities share their thought. On the one hand, many of them raise a positive voice about hidden likes. For example, CardiB wrote on her Instagram: "what makes you feel more insecure getting no likes or people constantly giving opinions about you, your life and topics? What you think IG should do?"

Besides CardiB, Kim Kardashian West also agrees that taking away Instagram likes could be beneficial for our mental health. In the New York Times' DealBook Conference, Kim said: "As far as mental health, I think taking the likes away and taking that aspect away from [Instagram] would be really beneficial for people."

"I find myself to be extremely mentally strong and I have people who are obsessed with the comments, and I find that to be really unhealthy," Kim said.

On the other hand, some well-known names criticized the decision. Nicki Minaj, for instance, threatened to stop posting on the platform. However, Instagram's chief executive noted that the movement does not mainly focus on the established names. "It's about young people," he said. "The idea is to try and depressurize Instagram, make it less of a competition, give people more space to focus on connecting with people that they love, things that inspire them."
How Does This Feature Work

Up to now, only users in Canada, Australia, Brazil, Ireland, Italy, Japan, and New Zealand and selected test groups in the US have access to hidden likes on Instagram. If you are in the test group, you'll see a banner at the top of your home feed explain why you don't see likes on another user's posts anymore.

The likes will be hidden for followers, but users will still be able to view how many likes they've received on a post. Here's what Instagram looks like with the design tweak.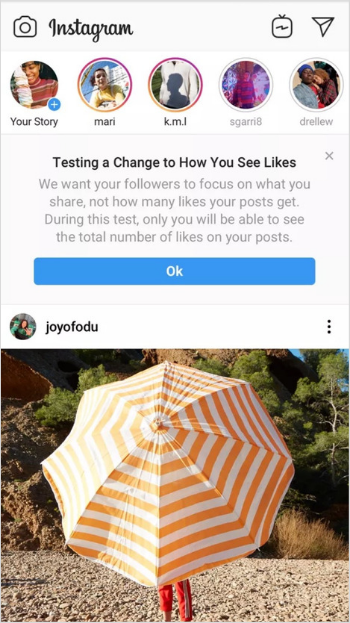 "As you scroll through your feed, there are no like counts," said Mark Zuckerberg at F8. "You can see who liked a photo or video, you can tap through to see [the list], and if you have the time you can add them all up yourself."

The number of like will not be shown under your post. If you want to see how much likes you get, tap "others" under your blog post.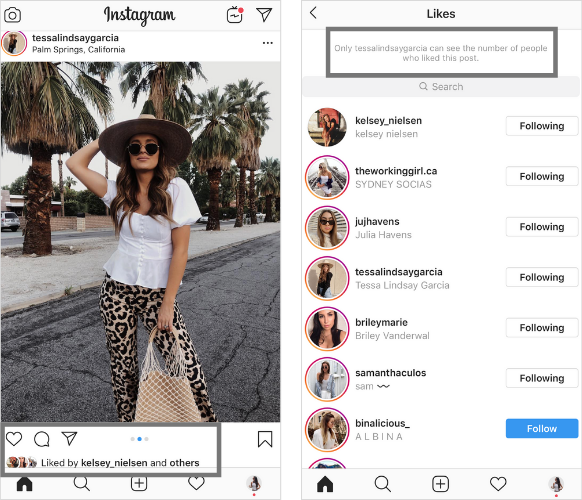 You might like Google Chrome Will Identify Slow-loading Pages
How Will a Like-Free Instagram Affect The Marketers

After Instagram announces hidden likes, there is a big question that how will this affect Instagram influencers and businesses?

Obviously, this change has a large impact on influencers, whether brands can find suitable Instagram influencers to work with.

Takumi, a UK-based marketing software provider, wants to be the bridging point between brands and influencers. The company described Instagram as 'today's cultural engine' and it will match top-class influencers with the most authentic brand messages. "There are a ton of ways to do things the wrong way in influencer marketing," Takumi notes as part of its mission statement. "We are advocating for the right way."

Not just Takumi, Take SocialPubli is another example. The company has the goal to 'diversify' influencer marketing and maintain authenticity. There is a common rule that in terms of ROI, likes are not a major factor since they are too superficial.

Adam Williams, CEO of Takumi, affirmed that by exploring 'alternative performance metrics'. For example, the company focuses on guaranteed impressions generated by content, helping mitigate any issues of false reach.

"As a business, we don't believe hiding likes will affect us as we work closely with influencers to collect lots of extra insights and don't rely solely on the platform," said Williams.

Brian Solis, formerly principal at Altimeter and now an independent analyst has explained why influencers have "freaking out" reactions to hidden likes.

"Influencers, after all, are individuals who built engaged communities around their personal brands and have learned how to land lucrative endorsements with advertisers to feature products in paid posts," he wrote on LinkedIn. "Likes, to influencers and marketers, are also a form of currency, along with followers. The more social capital one has and demonstrates, the more brands can plug into network effects that extend the brand's reach among desired audiences."

Final Thoughts

We all know that hidden likes may have certain harm for some influencers and businesses. However, as William has said that It would seem unlikely [Instagram] would introduce an update that would harm their own business model long term." Then he suggests that instead of focusing on vanity metrics such as 'likes', responsible advertisers should measure ROI through relevancy of the audience and more meaningful engagement, such as click-throughs.

Hidden likes will be a motivation for influencers and brands to create more artsy, cool and different content. Also, "consumers may be more likely to interact with a wider range of brands and creators they have a genuine connection with and passion for, rather than simply liking the most popular ones or trying to 'keep up'," William added.