In this blog, we continue giving you the rest 6 best free video editing softwares that will help you to drive more sales and increase ROI for your online store.

7. Avidemux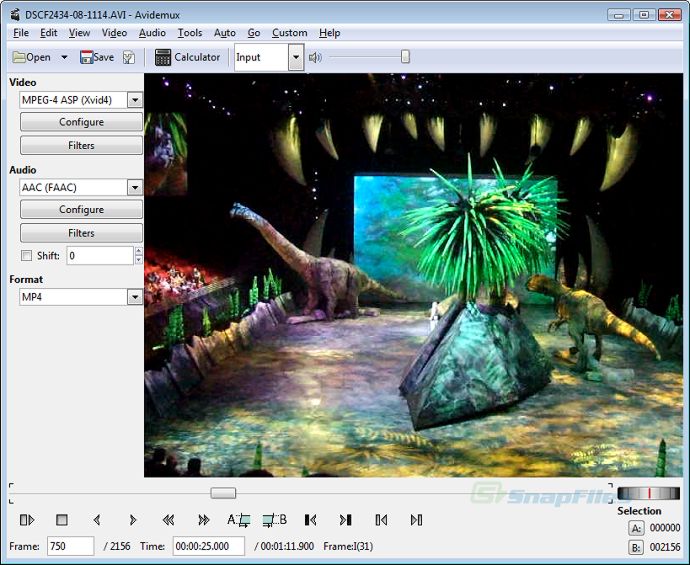 Available for: Windows, Mac, and Linux.

Price: Free

Avidemux is a great choice for beginners and it is enough or basic and slightly advanced video editing. This open-source and multi-platform contains many useful and high-quality filters for deinterlacing, changing the resolution or cropping the image. In addition, this software can deal with AVI/MKV files in a few ways while other programs can not.

Notable features of Avidemux:
Localization with many languages
Easy conversion to the most used audio/video formats
Availability of many quality paid plugins
Add and remove audio tracks easily via muxing and demuxing
Best for: Basic editing tasks for starters.

8. HitFilm Express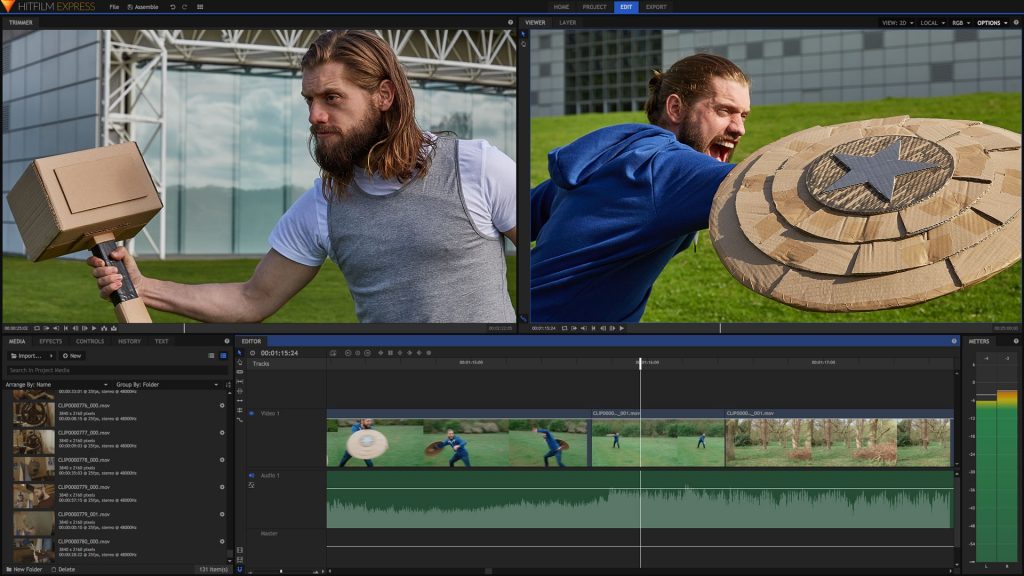 Available for: Mac and Windows

Price: Free, $497 for TK

HitFilm Express is one of the more professional video editors, it's even used to produce Hollywood-style films like Star Wars. It includes all the features that a basic editor needs such as splicing, trimming, and audio editing. While some people may find HitFilm a little advanced, it's certainly one of the best free video editors out there. With the free package, you can use over 180 special effects.

You have to share a status on your social media account if you want to download this software. However, it's just small pay for such advanced software. In addition, HitFilm has a store, where you can buy add-ons. But these add-ons are beyond the scope of most users, as the free feature set should be more than enough.

Notable features of HitFilm Express:

Professional-grade video editing
Composite shot enhancements give you the ability to animate two separate shots together for surreal video effects
Unlimited video and audio timeline-track creation
The adaptive trimmer allows you to re-trim your clips after adding them to the timeline
You can copy a group of attributes from one clip and then apply them directly to another, or to a whole project
Audio mixer for fine-tuning sound for professional-quality output
Various transition options, such as push, zoom and dissolve
Best for: YouTuber Vloggers because YouTube uploading is built in.

9. DaVinci Resolve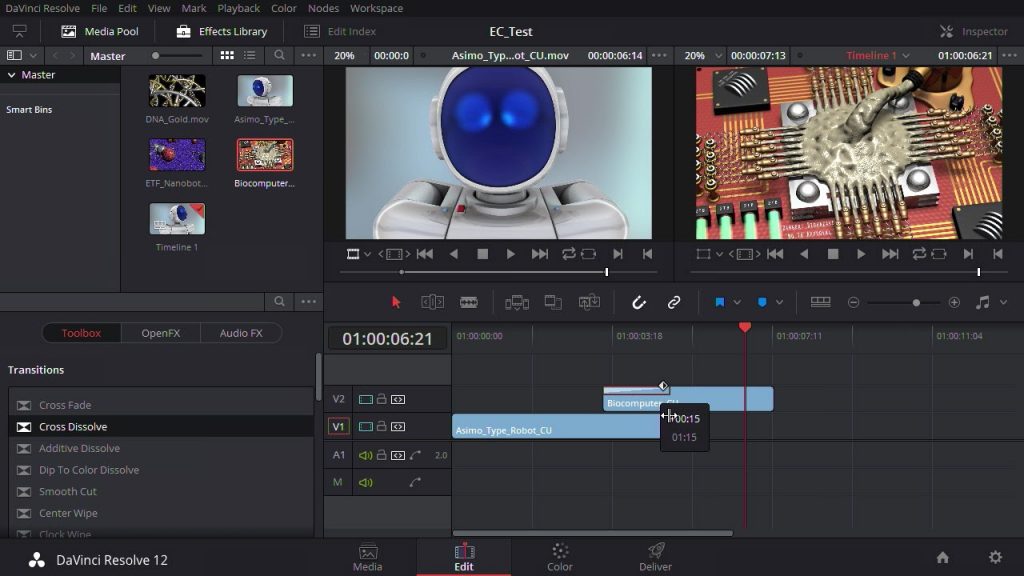 Available for: Windows, Mac, and Linux

Price: Free, $269 for the full Studio version

Similar to HitFilm, DaVinci Resolve is another advanced video editor and is the choice for many professional editors of films, television shows, and commercials. Its feature includes professional 8K editing, color correction, visual effects and audio post-production in a single production tool. Even though it has many advanced features, its interfaces remain intuitive.

With Davinci Resolve, you can edit both online and offline. If you just want to trim and upload videos, DaVinci Resolve's complex features may be too extensive. But if your project is a little more advanced, this free version of the software is an ideal option.

Notable features of DaVinci Resolve:

The dual timeline allows you to have quick navigation, cutting, and trimming
The professional trim interface that gives you the ability to edit in minute detail
Intelligent auto-editing that syncs audio and visual clips for you
Built-in tools for Picture-in-Picture effects, retiming, stabilization, dynamic zoom, text, and audio
Detecting faces in your clips and then automatically creates bins based on the people in each shot
High-quality motion estimation speed changes and frame rate conversions to easily and realistically speed up or slow-down clips
Best for: More advanced projects dealing with correct colors.

Have you taken a look at the previous part?
10. iMovie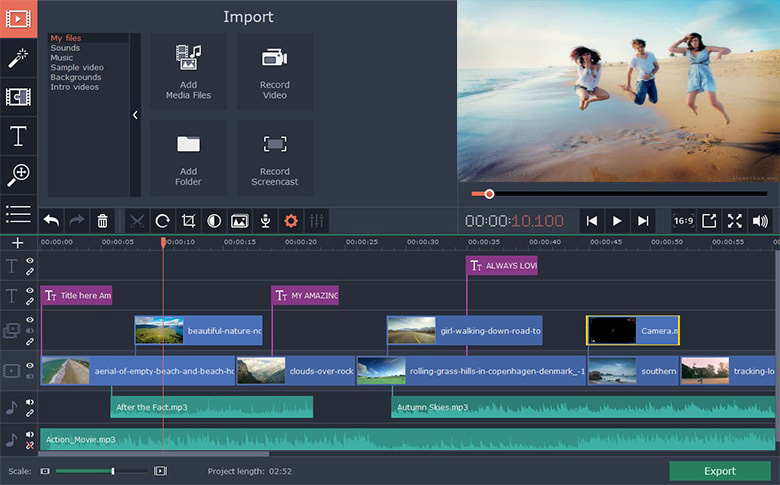 Available for: Mac

Price: Free

Good old iMovie comes bundled with Mac OS. Like most native Mac apps, this video editor is uncomplicated and has a simple drag-and-drop interface. One of the biggest advantages of iMovie is that files are automatically saved on Apple's cloud. That means you can work on your project interchangeably on an iPhone, iPad, or Mac.

Notable features of iMovie:

Support for 4K resolution so you can create cinema-quality films
Cloud-storage functionality creates seamless edit experience among iPad, iPhone, and Mac
Dozens of studio-quality title animations for professional-looking credits
Wide range of stylish, contemporary video filters built for specific film genres, such as western and sci-fi
Built-in music, sound effects, and voiceover recording so that your sound and picture editing are always consolidated
You can make high-octane action scenes faster and sports highlights slower with speed control
Best for: Mac users who just start with video editing.

11. VideoPad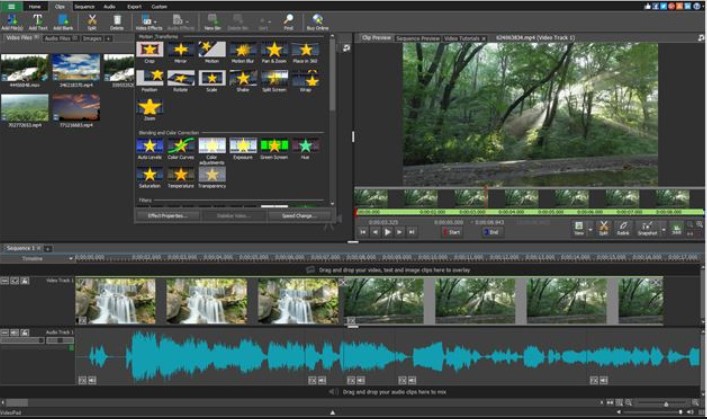 Available for: Windows

Price: Free

If you are just taking the first step in video editing, then VideoPad is a great choice for you. It has a simple and easy-to-use interface. However, it still has some professional features like multiple displays for fast editing and unlimited overlay audio tracks.

Although advanced video editors may find it too basic, with options to add light effects, fine-tune colors and overlay text and images, it is enough for a free video editor.

Notable features of VideoPad:

Double built-in screen for easy and intuitive editing. Specifically, one for preview selected clips and the other for preview complete sequence
Pre-made, customizable transitions for polished professionalism
Exporting presets to easily create video files optimized for specific platforms, such as Facebook and YouTube, and post them directly from within the software
Best for: Window users who are beginners with video editing.

12. Movie Maker 10

Available for: Windows

Price: Free
Some may be confused with the old Windows Movie Maker. But Movie Maker 10 is a convenient option for Windows users who want to use the "back-to-basics" edit style. The free version includes its suite of video and picture editing tools. Besides, it also gives you the ability to add captions with customizable fonts and colors.

Notable features of Movie Maker 10:

Auto-preview tool for previewing edits and effects before applying
Auto-movie options for creating customizable cuts of your video clips
Animation tab to easily add music, titles, and credits
Best for: Short videos that need ready right away.

All 12 free video editing software on this list will help you to create stunning videos. A professional, well-made marketing video can help boost your ROI and maximize your ad spend by creating product videos.
You can take a look at our Shopify apps that can help you to drive your more sales.